Easter exchange with Croan Yn Tead and The Lissenhall Harp Ensemble
Mon, 13 Mar 2017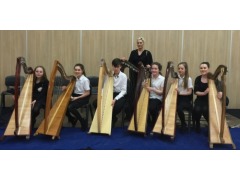 As part of a cultural exchange programme that started in September 2015 between young musicians of traditional Manx music "Croan Yn Tead" and Irish harp champion Fiana Ní Chonaill, "The Lissenhall Harp Ensemble" under the auspices of Fiana, will be visiting the Island over the Easter weekend. Both groups are looking forward to meeting up with each other and a programme of events and cultural activities is well under way, which includes visits to places of interest, workshops, and an evening concert featuring local, and visiting musicians from Ireland. On Saturday, 15th April there will be music workshops in the afternoon, followed by an evening concert of Manx and Irish traditional Celtic music by both Croan Yn Tead and The Lissenhall Harp Ensemble. The concert will be followed by a CD launch with Fiana Ní Chonaill and guests. Fiana has recently launched her debut CD "Dathanna an Cheoil" and will be available to purchase on the evening as well as from her website ~ www.fianaharpmusic.com
The venue for both the workshops and the evening concert is The Youth Arts Theatre, Kensington Road, Douglas. The workshops are aimed at harpers primarily, but any trad musicians are welcome to attend. There will be an opportunity to learn both Manx and Irish tunes from local and visiting musicians and the workshops will run between 2 – 5pm, and entry to the workshops is by donation. The evening concert kicks off at 8pm sharp and doors will open at 7:30pm. We're aiming to be finished by around 10:30 and the audience is in for a real treat of Manx and Irish Celtic music. Tickets are £5, under 13s free. "We are still looking for people to partner with us and get involved with the cultural exchange, especially members of the harp fraternity on the Island, but we will welcome any involvement from interested parties", said Peddyr Cubberley, one of the organisers of the exchange. "we're looking for folk to help us host our visiting musicians and to get actively involved during their visit which will be a very rewarding experience as we had in last year.
There are a number of ways people can help and we'd love to hear from anyone who is interested." Croan Yn Tead who are hosting the exchange, can be contacted by email ~ claarsee@manx. net or by contacting them at their Facebook page ~ www.facebook.com/Croanyntead/about Fiana is willing to provide private harp tuition on a oneto-one basis. If you play the harp and would like to book a lesson, email.
The Tarroo Marroo Céilí Band in conjunction with Croan Yn Tead are also holding a St Patrick's Day céilí on Friday, 17th March, 7:30 - 10:30pm. Tarroo Marroo will provide for the dancing and Croan Yn Tead will perform during the interval. The evening is to celebrate Paddy's Day and raise funds for the forthcoming exchange with the Lissenhall Harp Ensemble.