The Barbed Lyre: Leaves from the Isle of Man
Mon, 13 Mar 2017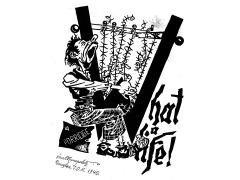 On 2 April 2017, Ensemble Émigré returns to the Liberal Jewish Synagogue with a programme of words and music that brings together the voices of German and Austrian composers who came to Britain seeking refuge from Nazi oppression, and who were 'collared' by Churchill in the internment camps on the Isle of Man from 1940–41.
The Barbed Lyre: Leaves from the Isle of Man celebrates the extraordinary resilience and creative spirit of artists in the face of migration, detention and uncertainty. The concert weaves together poetry and music written in the internment camps – including works by Kurt Schwitters, Hans Gál and Peter Gellhorn – with stories of contemporaries, and music that celebrates the cultural legacy of an Island where sun-seeking holidaymakers after the War found themselves staying in boarding houses that were once occupied by refugees.
The concert is preceded by a conversation with Sue Lukes, a founder of the charity Music in Detention, and a performance by Lucky Moyo, a former member of Zimbabwean music and dance ensemble Black Umfolosi, who will speak about his experience as an immigrant to the United Kingdom.
The Liberal Jewish Synagogue
Sunday 2 April 2017
Pre-concert talk and performance 4.30pm
Concert 5.30–7pm