Pan-Celtic in Carlow
Tue, 01 May 2012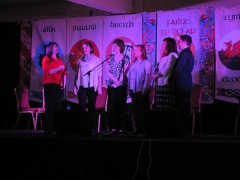 Pan-Celtic in Carlow by Fiona McArdle
As it is Mann's Presidential year for the Pan-Celtic, a group of over 20 Manx set off for Carlow in Easter Week. The offi cial opening of the 41st Festival was by Ireland's President, Michael D. Higgins, and Margaid Bird, as Pan-Celtic President, was a member of the welcoming party who escorted him and his wife into the George Bernard Shaw Theatre for the opening ceremony. Also in the lineup to meet the President were Phil Gawne, MHK, Minister of Environment, Food and Agriculture, and Fiona McArdle, Mannin's representative on the International Pan-Celtic Council. Before the President's arrival there was dancing in the College grounds where the Visual Arts Centre and Theatre are situated, so Judith Wellings, Fiona McArdle and John Kilgallon danced for Mann with a great band of musicians, along with dancers from Cornwall, Ireland, Brittany and Wales. Each country also performed two brief selections of their culture at the official opening, with the Irish President staying to enjoy the whole evening.
Midweek the traditional singing competitions were held, with three solo entries from the Island – Phil Gawne, Paul Salmon and Marlene Hendy. Marlene came third of eleven entries – congratulations to her. A group was also formed to sing - Cliogaree Cooidjagh – no win this year, but a good performance nonetheless. Thursday was a busy day for the Manx, who organised a 'Kiaull as Coloayrtys' lunchtime session at the Courthouse Hotel where most of the Manx were staying. Then it was the 'New Song' competition in the evening which Cornwall won this time with Ben Lathom, a prodigious young talent who composed, sang and played his own song. Mooinjerey performed their song 'Cowrey ny Croshey' written by Laura and David Rowles well and it was much enjoyed by the audience packed into the Seven Oaks Hotel ballroom , but it was pipped by the Scots group Macanta. Following on from that was the Manx / Cornish / Breton ceili night, where each country gave fantastic musical performances and there was plenty of audience participation in dancing.
Only half of the duo Strengyn was able to make it to the Pan-Celtic but Paul Rogers brought along Tom Callister as his replacement string, much to the delight of Carlow audiences. Friday was a quieter day with some taking the chance to see the country outside Carlow town or to take the train to Waterford. Cliogaree Twoaie performed in the evening choral concert along with choirs from all the other Celtic countries. Each choir sang two pieces and the Welsh had to be restricted to three choirs (they brought eight altogether). Saturday was again competition day with Cliogaree Twoaie performing in two choral competitions and John Kilgallon performing 'Gorse Sticks'. John came second in his solo competition (against competition from an extremely athletic Welsh clog dancer!) Jeant dy mie, John!
Carlow really welcomed its Celtic visitors with flags and bunting of all the six nations in the streets, shop windows decorated in Pan- Celtic themes, some with work of the local schools (there is a strong Irish medium school tradition there from pre-school right through including a secondary school). There was plenty of music and dance in the streets by day particularly from the two Breton dance groups there, one from Lorient and the other from Auray, and by the weekend there were also three Welsh dance groups. Every hotel and pub had music sessions – some were organised, others spontaneous, so there was a great atmosphere for the week. If you missed it this time the Pan-Celtic will be in Carlow again next year in Easter week, starting on 2nd April 2013.