A brilliant time for Perree Bane in Lorient by Carol Hayes
Mon, 05 Sep 2011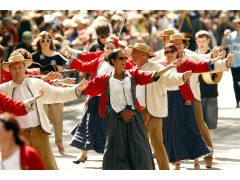 Perree Bane last represented the Isle of Man at the Lorient Inter-Celtic Festival way back in 1986 and both our group and the festival has grown considerably since those days. We certainly made the most of our time there and in spite of the blistered feet, the long walk to and from our accommodation and very changeable weather we all thoroughly enjoyed the whole experience. Some of us even managed to douse our hot feet in the sea at Larmor Plage!
Of course the important part of the festival was our dance performances, the highlight being our hour-long set, which we performed to large audiences at three separate venues over the week. Our show told the story of the Manx people beginning with a slow atmospheric entrance to the song Birlinn Gorree Crovan to represent our Norse heritage and the first King of Man then building up momentum into an energetic Fathaby jig and continuing with dances smoothly linked together to show Manx customs and traditions, including a courtship and wedding, Flitter Dance, yn Mheillea and many more, finishing with the beautiful Moirrey ny Cainle.
Our performances were incredibly well received. Some Manx friends in the audience who happened to be there on holiday came over afterwards to congratulate us and said how much they enjoyed the show and how proud they felt for the Isle of Man.
The festival is a showcase for all the Celtic nations and the Perree Bane dancers and our very talented musicians were a credit to our Island. As well as playing for all the dance performances, our musicians attracted lots of attention in their own right and were asked to perform in the Asturias and Irish tents drawing in large appreciative crowds. Perree Bane are very grateful to Caroline Helps and Aalish Maddrell for all their help in organising the group's participation. We hope it's not another twenty-five years before Perree Bane performs again at Lorient!