Hartes Ease early music summer concert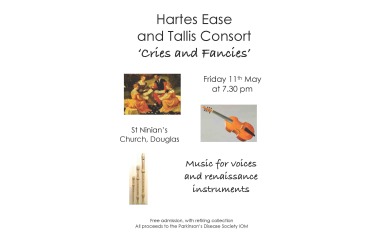 When: Fri, 11 May 2018
Time: 7.30pm
St Ninian's Church, Douglas
Following the successful joint concert in May last year, Hartes Ease and the Tallis Consort decided we would again join forces this May to explore more of the diverse repertory of vocal and instrumental music.
This time we hope to get lots of support for another good cause with some of our favourite numbers, ranging from 13th century well known round promising Summer (leaving out the Wicker Man), to a 17th century imitative and amusing (the singers found it very amusing on our first
rehearsal) version of the famous street cries for voices and viols by Gibbons, and much more besides.
Please help us support the Parkinson's Disease Society IOM .