Isle of Man Traditional Music Weekend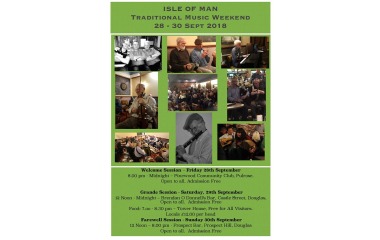 When: Fri, 28 Sep 2018 to Sun, 30 Sep 2018
Time:
Isle of Man Traditional Music Weekend
A weekend of lively traditional music sessions at various venues featuring local and visiting musicians.
PROGRAMME
Welcome Session – Visitors / Locals – Friday 28th Sept
8pm– Midnight – Pinewood Community Club , Pulrose.
Grande Session - Visitors / Locals – Saturday 29th Sept
12 Noon - Midnight – O'Donnells Bar, Castle Street, Douglas.
Farewell Session - Visitors/ Locals – Sunday 30th Sept
12 Noon – 8PM - Prospect Bar, Prospect Hill, Douglas.
All of the sessions are open and everyone is welcome to come along. All sessions are free admission.
For details please contact Mary Molloy on 493365 or Ann-Marie Murphy on 451487.
More Information