IOM Symphony Orchestra Summer Concerts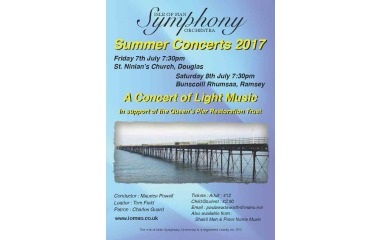 When: Fri, 07 Jul 2017 to Sat, 08 Jul 2017
Time: 7.30pm
Fri 7th July - St Ninian's Church, Douglas
Sat 8th July - Bunscoill Rhumsaa, Ramsey
£12/£12.50 from Shakti Man, Peter Norris Music & by email
The Isle of Man Symphony Orchestra's pair of summer concerts are in support of the Queen's Pier Restoration Trust whose endeavours it is hoped will eventually lead to the re-opening after many years of Ramsey's iconic Victorian pier.
The programme will feature light classical music with a nautical and holiday feel, and includes what is believed to be the first complete performance since the 1920s of Harry Wood's Selection on Manx National Melodies, The Cushag, more usually known simply as Manx Airs. Wood - the musical director of the Palace & Derby Castle Company, and elder brother of the composer Haydn Wood - composed the first version of this medley of traditional Manx tunes mostly taken from Manx National Songs (1896) around 1916, but adapted them for full orchestra in 1920, and added solo vocal and choral parts for a large-scale Celtic Concert in connection with the Great Homecoming of 1927.
The work consists of twenty-one well-known Manx tunes skilfully woven together into a work lasting some 15 minutes. As a reviewer wrote in the Isle of Man Times 1920: '. . . it is hoped that the Manx people will make a special effort to be present to listen to their native airs rendered by a full orchestra'.
For more information about Manx Airs, see Maurice Powell, Harry Wood's Selection on Manx National Melodies.